Have you ever made travel plans with friends or family members only to have them renege?
Have you ever gotten excited to take a trip, but then had that excitement crushed because you couldn't find a travel partner?  If you are a retiree or a middle-aged person who can not seem to find a travel partner, Live The Dash Tours is for you!
Live The Dash Tours caters to solo travelers whose ages range from 35 to 80.  We partner solo travelers together in intimate groups of no more than 12 individuals.  We offer authentic travel experiences to the most amazing destinations on the planet, and we immerse ourselves in the culture of the countries that we visit. Our tours range from mid-market to luxury; we combine comfort and adventure.  Become a "Dasher" and join us on one of our tours.
Live The Dash is not just your tour company. We are part of you waking up to remind you that the time to live your dreams is now.

Take The Dasher Pledge Today!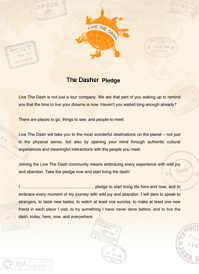 Click on the highlighted regions of the map to view our current travel destinations.
Live The Dash
The "dash" equals life! Akwasi came up with the name of the company while attending the final services of a former high school teacher. . As his teacher was being eulogized…
Read more…
Solo Travel
At Live The Dash Tours we recognize that people's travel dreams are seldom realized because they lack a travel partner. For one reason or another, their friend's…
Read more…
Small Intimate Groups
You will travel in a small intimate group of no more than 12 Dashers. No longer will you need to search for a person to dine.
Read more…